WHAT ARE NORMAL BOWEL HABITS?
For most people, it is normal for bowel movements to occur from 3 times per day to 3 times per week. It is important to understand that everyone has different bowel patterns. Frequency is not the only component to proper bowel health. Stool consistency is very important. On the Bristol Stool Chart normal bowel movements should be a Type 4.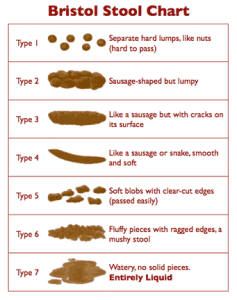 Some people may have one large bowel movement a week. If there are no symptoms of discomfort, bloating, or straining and the stool consistency is a Type 4 then this would not be considered constipation. However, if one has several bowel movements a day with the consistency of Type 1, 2, or 3 this would be of concern and a sign of constipation or more specifically incomplete bowel emptying due to hard stool (difficulty evacuating completely).
TREATMENT
Diet is the first step in treating constipation. If the stool consistency is not a Type 4 that has to be addressed first with diet, most likely needing to add more fiber. On average we should ingest 25-35 grams of fiber a day. See Bowel Retraining for a more comprehensive review of diet modifications for constipation.
Behavior and habits need to be reviewed and are just as important as diet. If a Type 4 stool consistency is present but there are bad habits then constipation and/or difficulty with defecation may still occur. For example, it is important to never suppress a bowel urge. By doing so this allows the stool to collect in the rectum and eventually leads to a stretched out rectum. Watch the video "The Poo in You" for further explanation on bowel function.
Sitting on the toilet with your feet on a stool is important to aide in complete evacuation. This proper position allows for the pubo-rectal angle to increase and the pelvic floor muscles to relax for defecation without straining. Remember, it is not normal to have to strain or push to have a bowel movement and never hold your breath. See Defecation Mechanics for more information.
If your diet and habits have been addressed and Type 4 stool consistency is present and there is still difficulty with defecation then the pelvic floor muscles may be inhibiting evacuation and therefore the reason for constipation. If this is the case bowel retraining in conjunction with physical therapy interventions is necessary. Interventions may include Manual Therapy or Biofeedback but will be best determined by an evaluation of your pelvic floor muscles by a pelvic floor physical therapist.